Proper ventilation and insulation are extremely important in prolonging the life of your roof and keeping your indoor temperatures properly balanced.
Proper ventilation is extremely important in prolonging the life of your roof and keeping your indoor temperatures properly balanced (warmer in the winter, cooler in the summer).

We make sure that:
The right type of vent is used for the type of roof.
The correct number of vents are installed for the existing roof area.
The correct type and r-value of insulation are installed.
With poor ventilation, summer sunshine can cause a large build-up of heat in the attic space and if not properly ventilated, this heat build up can migrate to the interior of the home as well as cause damage to the roof decking and shingles.
During winter months, warm moist air from the inside of the house rises into the cold attic and the resulting condensation can cause several major problems: buckling of the wood roof decking and the shingles, rotting of the wood, and soaking the insulation which reduces its effectiveness and can cause the water to leak into the ceiling of the house.
Poor ventilation can also cause ice dam build-up and water to back up under the roof shingles damaging the roof decking, the exterior and interior walls and interior ceilings of the home.
Effective and proper attic ventilation keeps attics cool during the summer months and reduces moisture build up to keep attics dry during the winter.
Proper ventilation ensures added all-season comfort inside the house, protection against damage to roof materials and structure, extends the life of the roof and reduces energy consumption throughout the year by requiring less heating and cooling.
Our specialist at Quality Home is specifically trained in roof venting practices and will inspect your roof and attic ventilation any time during the year (summer or winter). He will determine your exact needs and install additional vents to ensure correct and effective ventilation for your attic and roof.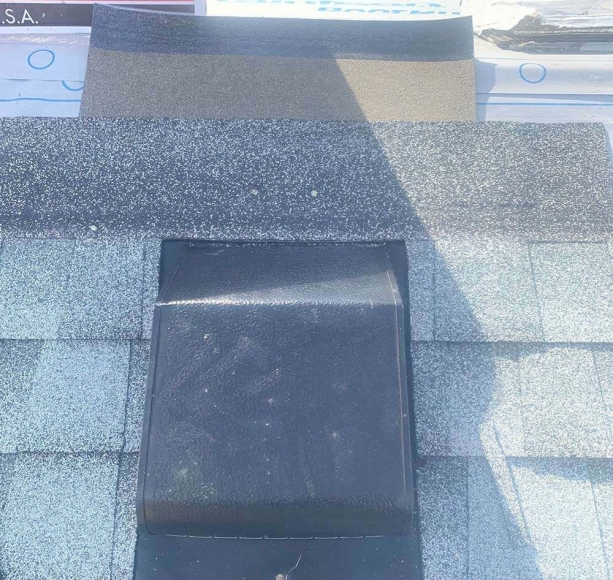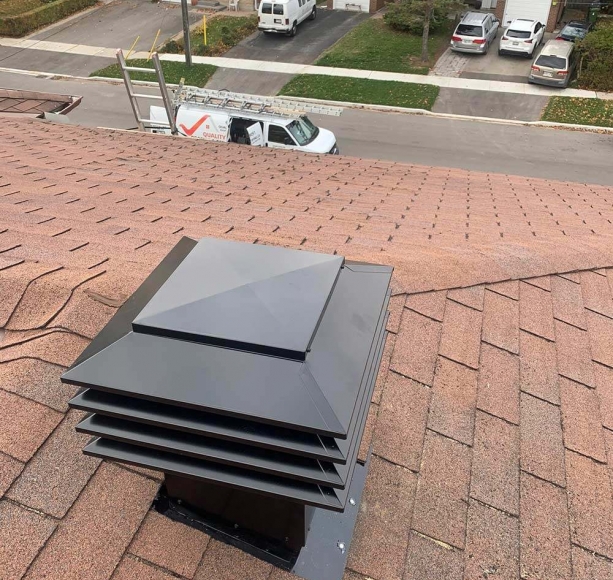 John In Burlington
The house I own downtown Toronto has a very sharp edgy roof. I had a few quotations, many of them declined doing the job because it was too complicated, and those who agreed asked for over 20000 dollars. Then I discovered this company and was very satisfied with the high quality work that was done. It was done fast and efficiently, and they have done more than expected. They covered with a sheet metal a brick wall that was chipping away and had a lot of damage which was not asked from them, but they have done it anyway. I'm really satisfied and I recommend this company to everyone.
Mika Gembatiuk
Yuriy and his team are trustworthy, meticulous in their work and very professional! We have had both our cottage and home roof replaced by Quality Home. Yuriy addressed the issues, explained the proposed work very clearly, ensured that the proper ventilation requirements were met and provided expert advice on materials and aesthetic details. I have and will continue to recommend Quality Home Roofing to others.
Bremner Construction In Toronto
I am a custom home builder and general contractor in the Oakville/Burlington area. We have been working Quality Home Roofing for a number of years. The owner YURIY and his team provide exceptional workmanship and service. 2 weeks ago a customer of mine had skylight and roof problems after the heavy winds/rain. YURIY and his team were quick to help and solve the problem for me. Great workmanship, excellent service at a fair price. Thanks YURIY. Cheers, Jamie.
Mary In Downtown Toronto
Several years ago, I bought an older home in midtown Toronto that I discovered had hidden roofing damage when my bedroom roof began to leak. After working with a larger roofing company that charged for a repair but did not resolve the problem, I found Yuriy and his company through a referral from a friend. Yuriy investigated the issue, suggested various solutions, and recommended a plan that fit my budget and timeline. His experience and care in helping me decide the best course of action and the best materials for a quality job that would last were invaluable. He and his team were always on t…
Christine Kowalyk
Our new flat roof and evestrophes were done by The Quality Home roofing team and no problems at all! Great job, completed on time and within budget. Real customer service. Thanks for keeping us dry...I will use Quality Home Roofing next time we need a new roof! Highly recommended.
Kevin Stoute
Roof shingle - Emergency Noticed water on the interior of my patio door. Called and within two days their team was at my door early morning and within 2 hours a new roof was installed. Quality work and professionalism. Very clean workers and attention to details. Thank you Yuriy and your team.
Jason Cedrone
I had a few dozen of shingles Blown off my roof from this past winter. Yuriy and his team came over the same day I called - even though it was not a huge job. Plus Yuriy said he would be here at 4pm and he was! thanks Guys, I appreciate it and will definitely call again.
Chris Holdham
My roof is steep and not easily accessible and there are various small areas (porch, bay window etc.) that also need shingles – two days minimum required. Yuriy responded quickly with an estimate and when the weather allowed, he and his team arrived promptly. They were hard workers, quick and professional and they paid great attention to detail. They were careful with the surrounding garden, and left the site clean and tidy. I am very pleased the work I had done, and I have no hesitation in giving Quality Home Remodeling the highest of recommendations. Thank you, Yuriy and your crew, for a gre…
Stephan Trusevych
Really happy with Yuriy and his team. The roof looks great and was done quickly, but most importantly (for me) the guys were careful with removal of the old roof and shingles. They laid out tarps to protect the deck, walkway, and plants, and cleaned up very well afterwards. They really took care. I will be recommending them to my neighbors.
John Kalenteris
Yuriy the Owner of Quality Home Roofing and Remodeling was very professional, he removed and replaced a 500 square foot flat roof I have over my garage studio. It was a 3 day job in gruelling summer heat, he used high quality mod bit torch down materials that will last 20-30 years. I am very happy at how he paid attention to every last detail. The clean up was immaculate, as if the job never happedned . I am impressed and satisfied with the end result. I would recommend Quality Home Roofing to any one looking for a professional job that is seamless and stress free. Thank you Yuriy and the team…
Jillian McKinley
Yuriy and his team are fantastic and have a great track record! He went above and beyond to help us pick the right shingles/colour for our house, venting our kitchen and bathroom properly and tarping all around the house. They just finished our roof in one day, it looks great and they cleaned up well. I highly recommend them.
Mark
Yuriy provided a very reasonable estimate of the roof replacement, including chimney removal. He didn't try to expand the scope of work beyond what was necessary or try to up-sell me to features that I didn't need. Communication to arrange the estimate appointment, written estimate and subsequent job completion was excellent, courtesy of Bozhena, his very amiable and efficient office manager. Showed up on time with his crew to complete the job in one day. Protected the surrounding areas of our property at the start and cleaned up completely afterwards. Assuming I won't have any more leaks afte…
Best-In-Class Workmanship
Our team of experienced roofers has completed numerous roofing projects since our inception in 2001. We know what a perfect roof should look like and guarantee excellence in every installation and repair project we take on.
Fair & Transparent Pricing
At Quality Home Roofing & Remodeling, we pride ourselves on offering fair and highly-competitive prices. What we quote is what you will pay; there are no hidden or surprise charges when you work with us.
Trustworthy Reputation
Over the years, our quality of service has earned us a reputation as one of the best roofers in Canada. We have satisfied and impressed customers all over Toronto, Mississauga, Burlington, Oakville, and more.
Impeccable Customer Service
We strive to maintain a positive professional relationship with all our clients. Our dedicated customer support team is available 24/7 and always happy to provide answers to any questions you may have.
Open Communication
We keep our clients abreast of our daily progress and provide a status report of their project from the beginning to the completion stage. Our professional roofers will never leave you in the dark at any phase of the roofing job.
High-Quality Materials
We understand that installing the perfect roof starts with using the best quality of materials. We source top-grade materials from the leading manufacturers in the industry to ensure our clients get the highest quality of service.